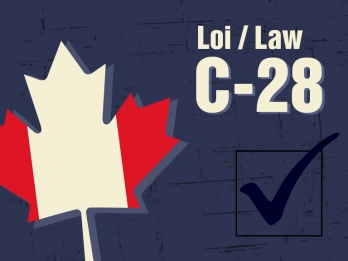 La nouvelle Loi canadienne anti-pourriel entre en vigueur le 1er juillet 2014. Nous avons préparé une liste de questions fréquentes afin de vous aider à mieux comprendre l'impact de cette nouvelle loi sur les activités de communication électronique de votre entreprise.
Ce document a été préparé par Baracci Solutions à des fins informatives seulement. Pour obtenir une version officielle de la Loi, veuillez visiter le site Web :
www.combattrelepourriel.gc.ca
La LCAP s'applique à quels types de messages?RÉPONSE :
La LCAP s'applique à tous les messages électroniques commerciaux (MEC) envoyés au Canada. Les MEC incluent tous les messages envoyés par voie électronique dans le but d'encourager la participation à une activité commerciale, y compris les courriels, les messages de médias sociaux privés, les messages de messagerie instantanée et les SMS.
Quand est-ce que La LCAP entre elle en vigueur? RÉPONSE :
La majorité de la législation de la LCAP (y compris tous les règlements reliés aux courriels) entre en vigueur le 1er juillet 2014. Dès cette date, tous vos nouveaux contacts situés au Canada doivent être gérés selon les règles de la LCAP.
Une période transitionnelle de 36 mois sera accordée pour permettre une bonne gestion de tous vos contacts canadiens existants (recueillies avant le 1er juillet 2014). Pendant cette période, il sera important d'obtenir le consentement de ces contacts existants.
À la suite de cette période de transition de 36 mois, l'envoi de MEC à ces contacts « pré-1er-juillet-2014 » canadiens qui n'ont pas donné leur consentement sera interdit par la LCAP.
Veuillez noter que pendant cette période de transition, les expéditeurs doivent continuer à gérer leurs contacts existants selon les règlements de la PIPEDA.
Que faut-il inclure dans un MEC afin d'en assurer la conformité? RÉPONSE :
Les MEC doivent contenir les informations suivantes :
1) Nom de l'expéditeur;
2) Les coordonnées de l'expéditeur (les casiers postaux sont acceptés);
3) Mécanisme de désabonnement fonctionnel et facile.
Qu'est-ce que Opt-In signifie exactement? RÉPONSE :
La LCAP est une législation de Opt-in. Cela signifie que les utilisateurs doivent effectuer une action pour donner leur consentement, et ce, avant d'être ajouté à votre liste de diffusion (par opposition à un règlement Opt-out, comme la loi CAN-SPAM, qui permet aux utilisateurs de prendre une action s'ils ne veulent pas être inclus sur votre liste de diffusion).
Par conséquent, les cases ne peuvent donc pas être précochées pour l'utilisateur. L'action de donner son consentement doit être prise par l'utilisateur.
En outre, le mécanisme de Opt-in doit être un champ autonome. Il ne peut pas être jumelé avec une autre demande de consentement telle que les demandes d'acceptation des conditions d'utilisation.
Comment dois-je obtenir ce consentement? RÉPONSE :
Il doit y avoir une déclaration de consentement compréhensible et précise avec une action à prendre (case à cocher, lien, bouton). Cette déclaration de consentement doit clairement identifier les types de MEC auxquels les utilisateurs s'inscrivent. Vous devez donc spécifier les MEC que les utilisateurs recevront de vous une fois qu'ils se seront inscrits à vos communications électroniques (c'est à dire : bulletins, coupons, promotions, sondages).
Quels sont les types consentement? RÉPONSE :
Il existe deux types de consentement :
1) Le consentement exprès : Quand un utilisateur effectue une action pour s'inscrire à votre liste de diffusion. En acceptant de recevoir vos MEC, ils sont considérés comme vous ayant donné leur consentement exprès.
2) Le consentement implicite : à compter du 1er juillet 2014, si une relation d'affaires existe entre l'expéditeur et le destinataire, le consentement implicite est reconnu. L'expéditeur est donc autorisé à envoyer ses MEC à un destinataire pour une période ayant jusqu'à 24 mois après la fin de cette relation d'affaires. À la suite de cette période, l'expéditeur qui n'a pas converti ce consentement implicite en consentement exprès doit cesser d'envoyer ses MEC au destinataire.
Puis-je envoyer un courriel demandant le consentement? RÉPONSE :
Oui et non. L'envoi d'un message qui demande le consentement d'un destinataire est considéré comme un MEC en soi. Le consentement implicite est donc nécessaire avant d'envoyer un tel message. Si vous n'avez pas de consentement implicite, vous ne pouvez pas demander le consentement exprès. Vous devez donc trouver une autre façon d'encourager le destinataire à s'inscrire à vos MEC.
En outre, il est important de bien documenter le type de consentement qui a été établi, la date à laquelle ce consentement a été reçu ainsi que la déclaration de consentement qui a été accepté. Le fardeau de la preuve sera toujours sur l'expéditeur.
Quand est-ce que le consentement n'est pas nécessaire?
RÉPONSE :
Le consentement n'est pas nécessaire lors de l'envoi des types de messages suivants :
1)Demandes d'un prix ou d'une estimation;
2)Messages qui facilitent ou confirment des transactions;
3)Messages qui donnent des renseignements en matière de garantie , de rappel, de sécurité;
4)Messages qui fournissent des renseignements à l'égard de l'utilisation ou l'achat par les personnes, l'abonnement, l'adhésion, le compte, le prêt;
5)le statut d'employé des personnes ou les régimes de prestations;
6)Messages au moyen desquels sont livrés des biens ou des services, y compris des mises à jour ou des mises à niveau.
Quels messages sont exemptés des formalités de CASL? RÉPONSE :
Il existe de nombreux types de communications qui ne sont pas considérés comme des CEM. En voici quelques-uns :
1)En réponse à une demande;
2)En vue de satisfaire à une obligation juridique ou de faire valoir un droit;
3)Par systèmes de messagerie fermés incluant les systèmes exclusifs, les systèmes de messagerie où les exigences d'identification et de désabonnement sont incluses dans la plateforme;
4)À entité étrangère conformément à sa loi anti-pourriel;
5)Par des organismes de bienfaisance pour la collecte de fonds;
6)Par des candidats ou organisations politiques, sollicitant des contributions politiques.
Il est important de noter que les messages exemptés deviennent des MEC lorsque des bannières promotionnelles ou de publicité sont ajoutées à eux.
Quelles sont les sanctions établies prévues par la LCAP?RÉPONSE :
Tout d'abord, il est important de noter que la responsabilité sera étendue des entreprises aux administrateurs et aux dirigeants. La peine maximale pour un individu sera de 1 million CAD. La peine maximale pour les entreprises sera de 10 millions de dollars canadiens. Ceci est par infraction.
Est-ce tout ce que je dois savoir? RÉPONSE :
Non, ce n'est pas tout. Ceci est un résumé de la Loi selon notre propre interprétation de la loi. Il est de la responsabilité de chaque expéditeur de se familiariser avec les spécificités exactes de la LCAP en visitant le site suivant :
www.combattrelepourriel.gc.ca
Cliquez ici pour visiter notre page de conformité anti-pourriel
sur iNewsBLITZ.com
[ add comment ]
( 3002 views ) |
permalink
|
related link
---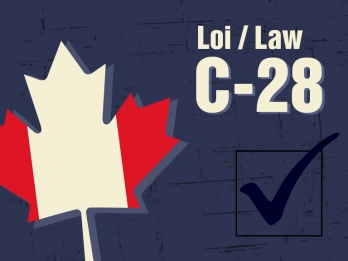 Canada's new Anti-Spam Legislation comes into effect on July 1st, 2014. We have prepared a quick review of what this will mean for your business commercial electronic communications being sent into Canada.
This document was prepared by Baracci Solutions for information purposes only. For an official version of the Legislation, please visit the website:
www.fightspam.gc.ca
What type of messages does CASL apply to?ANSWER:
CASL applies to all commercial electronics message (CEM) sent into Canada. These CEMs are all messages sent electronically with the purpose of encouraging participation in a commercial activity including emails, private social media messages, instant messaging messages and SMS.
When does CASL come into effect?ANSWER:
Most of the CASL regulation (including all email aspects) comes into
effect on July 1st 2014. As of that day, all new contacts located within Canada must be managed as per CASL regulations.
A transitional period of 36 months will be granted for proper management of all existing Canadian contacts (gathered prior to July 1st 2014). During this period, it will be important to get consent from these existing contacts.
After the 36 month transitional period, commercial electronic communication with pre-July 1st 2014 contacts within Canada who have not given their consent will be prohibited by CASL.
Please note that during this grace period, senders must continue to manage existing contacts as per PIPEDA regulations.
What is required in a CEM for compliance?ANSWER:
CEMs must contain the following information:
a. Sender's name
b. Sender's contact information (P.O. boxes are accepted)
c. Functional & simple unsubscribe mechanism
What does Opt-In mean exactly?ANSWER:
CASL is an opt-in regulation. This means that users must perform an action to Opt-in and be added to your mailing list (as opposed to an Opt-out regulation, such as the CAN-SPAM Act, which forces users take an action if they do not want to be included on your mailing list).
Therefore, checkboxes cannot be pre-checked for the user. The action of giving consent must be left to the user.
Moreover, the Opt-in mechanism must be a standalone field. It cannot be included in other statements such as agreements for terms of use.
How do I get consent?ANSWER:
There must be a clear and precise Opt-in Consent Statement with an action item (check box, link, button). This Consent Statement must clearly identify what users are signing up to. You must enumerate what messages users will be receiving from you once they Opt-in (i.e.: Newsletters, coupons, promotions, surveys).
What are the types of consents?ANSWER:
There are two types of consent:
1)Express Consent: When a user takes an action to sign-up to your mailing list, agreeing to receive your CEMs, they are considered as having given you their express consent.
2)Implied Consent: as of July 1st, 2014, if a business relationship exists between the sender and the recipient, implied consent is recognised. The sender is allowed to send CEMs to a recipient for an extended period of 24 months following the end of this business relationship. If the sender has not converted this implied consent into an express consent, he must cease sending CEMs to the recipient.
May I send an email asking for Express Consent?ANSWER:
No, sending a message seeking the recipient's consent to send his CEMs is considered a CEM in itself. Implied consent is therefore required before sending such a message.
Also, it is important to track which type of consent was established and when it was received as the burden of proof will always be on the sender.
When is consent not required?ANSWER:
Consent is not required when sending the following types of messages:
1)Quotes or estimates
2)Messages that facilitate or confirm transactions
3)Messages that provide warranty, recall, safety or security information
4)Messages that provide information about ongoing use or ongoing purchases, ongoing subscription, membership, accounts, loans or similar
5)Employment relationships or benefit plans
6)Messages that serve as delivery of a product good or service, including updates and upgrades
What messages are exempt from CASL regulations?ANSWER:
There are many types of communications that are not considered CEMs. Here are a few:
1)In response to a request
2)To enforce a legal right or obligation
3)Via closed messaging systems
4)Via proprietary system
5)To a foreign jurisdiction in compliance with their spam law
6)By registered charities raising funds
7)By political candidates or organizations, soliciting political contributions
It is important to note that exempted messages become CEMs when promotional or advertisement banners are added to them.
What are the planned penalties established by CASL?ANSWER:
Firstly, it is important to note that liability will be extended from businesses to directors and officers. The maximum penalty for an individual will be 1 million CAD. The maximum penalty for businesses will be 10 million CAD. This is per violation.
Is this all that I need to know?ANSWER:
No, it is not. This is an abstract as per our interpretation of the law. It is every sender's responsibility to become familiar with CASL by visiting
www.fightspam.gc.ca
Visit our Anti-Spam Compliance page on iNewsBLITZ.com:
http://www.inewsblitz.com/anti-spam.html
[ add comment ]
( 38402 views ) |
permalink
|
related link
---
In our last blog post we discussed Web Design trend predictions for 2013; Responsive Web Design (RWD) was at the top of the list as more and more people turn to their mobile devices as their web platform of choice. This "mobile revolution" is leading to major changes in Mobile Web Design and Mobile Web Development; it needs to be taken seriously. Marketers must ensure that they do not neglect the increasing number of mobile web users that are now discovering brands and products via their tablets, smartphones and other mobile devices. Businesses can do this by creating an optimized web experience for mobile users, helping to convert them into solid leads.
Rise of the Smartphone
It is estimated that there were 106 million tablet users in the USA in 2012 and the number is set to grow to 148 million tablet users by 2014. It is predicted that US consumers will spend approximately $13 billion USD this year while shopping on their smartphones. That amount will likely grow to $24 billion by 2016.
Rise of the Tablet
It is estimated that there were 54 million tablet users in the USA in 2012 and the number is set to grow to 90 million tablet users by 2014 (36% of all internet users). In the UK and in Germany, both countries counted approximately 10 million tablet users in 2012. That number is set to grow to over 23 million in both countries by 2016: that's 1 in 3 people in Germany. In fact, the EU's 5 largest economies saw a 130% annual increase of tablet users in 2011 and 2012. In 2012, smaller tablets have also begun to flood the market: it is estimated that 34 million 10" tablets will ship globally in 2013.
The Big Picture
eMarketer reports also show that Mobile Commerce sales, or mCommerce sales, in the USA grew by 81% in 2012 to reach $25 billion USD (this amount excludes all travel and ticket sales). Moreover, it is predicted that US consumers will spend approximately $24 billion USD this year while shopping on their tablets alone. That amount will likely double by 2015 and account for 16.9% of the entire eCommerce market share in 2016.
Email Mobile Readership rates
In early 2012, at least 20.63% of all email opens were occurring on mobile phones and 6.76% on mobile tablets: this means that in early 2012, at least 27% of email opens were 'mobile'. What about desktop open rates? The rate of email opens on desktop platforms dropped by 9.5%. It is estimated that these numbers would have been much higher if content had been optimized for mobile readership: better rendering of emails on mobile devices, more attention to the ratio of pictures, a careful streamlining of text and the use of mobile friendly call-to-action buttons and zones. This data further shows the relevance of offering a Mobile Optimized Web Design online experience.
Harness the Power of Mobile!
Research shows that mobile web users are much more likely to visit your website, follow your links and interact with your call-to-action buttons if your web content, including your web design, is optimized for mobile devices. Responsive Web Design will offer your mobile users an optimized web experience without sacrificing the experience of desktop web users by automatically optimizing website features such as font, image and call-to-action button sizes.
This process is not as simple as retrofitting RWD into your existing websites and email marketing templates: as a key to your corporate mobile web strategy, your website will need to be completely revisited, from the ground up, to incorporate RWD features. This will allow your business to create a unique mobile experience for your mobile web customers.
With Internet Explorer now supporting SWD, 2013 will also most likely see a rise in Scalable Web Design. SWD allows the creation of websites that can be viewed on screens with both low and high pixel densities (smartphones to desktops) since it foregoes the use of rasters, using instead vectors which allow the flawless scaling of website elements.
Finally, the rise of tablets and smartphone web browsing is also pushing Flash even further to the sidelines as it is replaced by faster loading HTML only websites. In fact, as web browsing behaviours evolve, mobile optimized websites - those that offer a mobile friendly web design and web browsing experience - need to be leaner and more performance-focussed; think restrictive mobile data plans!
*Above quoted mobile usage date was gathered in part by eMarketer.
[ 1 comment ]
( 58730 views ) |
permalink
---
2013 web design trends
will be all about Responsive Web Design (RWD) and have a wildcard variable: the popularity of Windows 8. Web design gurus will need to focus on creating websites that look perfect not only on the various operating systems and web browsers but also on the wide variety of mobile platforms and devices available in Montreal, in North-America and around the World.
The popularity of Microsoft's Windows 8 will definitely lead to the creation of an important number of websites emulating the new Metro design style. The visual focus will move away from icon based designs and towards a more typographical web experience. Whether you are a Montreal website designer or an international web solutions team, you will need to prove your website design trendiness by using full-width backgrounds as well as simplified yet larger buttons, menus and headings that will allow users to browse more socially dynamic websites.
Sharp corners will replace rounded ones, highlights will be preferable to shadows and borders will be removed to create a sense of openness and fluidity. Menu bars and various navigation, ecommerce and social media buttons that scroll down the page as you navigate vertically will be preferred since they remain accessible to the users throughout their visit ensuring better user conversion rates.
2013 websites will be simple yet bold
- the "white space" trend will continue throughout the year. Although the individual website design elements will need to remain plain, they will need to come alive on user contact to offer a truly dynamic, interactive and social experience.
The use of Flash elements will diminish drastically. Website design teams will prefer the use of Dynamic HTML5 elements. Web designers will also prefer single HTML5 page layouts when designing web portfolios and other specific content pages.
Since mobile web browsing seems set to surpass traditional web browsing, 2013 will see web design specialists re-evaluating the traditional website scrolling options in order to ensure that mobile web users have an equally optimized web experience. To fully reach the 2013 web audience, websites will need to automatically rearrange their various elements to ensure visual stability regardless of screen resolution – from widescreen desktops to 4 inch mobile screens.
Finally, Montreal area web design firms with their North American tech knowhow and their European flare for style and attention to detail will remain leaders in the Web Design milieu throughout 2013 as they continue to create some of the trendiest, most avant-garde and truly efficient websites and web portals.
[ 2 comments ]
( 47047 views ) |
permalink
---
For those of you who are unfamiliar with this syndrome, it involves troves of people uninhibitedly jumping onto the 'look at this brand new social media shiny object … I want it, I want it, I want it' bandwagon. In most cases, users are plagued with maintaining a chronically underperforming social channel. In very few cases, #SMSOS victims come out of this affliction unscathed and socially stronger for it – just ask the first thousand or so Facebook users. However, this last outcome is rare in today's virally driven social media ecosystem.
How can I avoid falling victim to this phenomenon, you ask?
Don't worry, there is a #SMSOS vaccine and it is relatively painless: don't be too quick to link your business to new social media ventures. Take time to 'personally' investigate and asses the shiny object and interact with some of its users.
Once you are satisfied that the social startup shows strong potential for growth and, more importantly, a potential for your business to gain a quality following, incorporate it to you social media strategy and carefully plan its implementation.
Abandoning a social media channel can have a negative effect on your business. It is not only a sign of "social weakness" but it can also reflect poorly on your online customer service as well as your social media knowhow and project management capabilities.
Is there a cure for #SMSOS?
If your business has contracted #SMSOS there isn't much you can do. However, here are a few steps that your business can follow to minimize the damage.
First, launch a campaign that aims to direct users to your other, more successful, social channels.
Second, honestly inform your community of the situation, encourage members to join your business on your other social channels and thank them for having been part of the social community.
Finally, shut down your social media channel promptly once you have informed your community that you will no longer be maintaining it. Most community members don't visit social media account pages, especially if you are no longer posting content. Moreover, you probably don't want any new people joining the community when you are planning on deleting your social media channel.
If you are worried about missing out on a 'social phenomenon', don't be: taking a few months to better assess and understand the features and functionalities of a new social startup can only help your business establish a strong social presence in the long run.
Assess, Strategize, Plan and Implement!
[ add comment ]
( 21634 views ) |
permalink
---